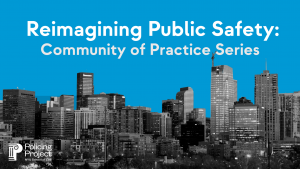 Wednesday, April 26, 2023
12:30-1:30 PM ET
In a watershed moment for alternative first response, the Los Angeles police officers' union has made a surprising proposal: Armed officers should not respond to calls for government help that usually get handled by police – issues such as a barking dog, public urination, drinking in public, and non-violent mental health situations.
"Police officers are sent to too many calls that are better suited for unarmed service providers," the president of the Los Angeles Police Protective League said in a statement.
In an exclusive, in-depth conversation, LAPD Chief Michel Moore and Policing Project Founder and Faculty Director Barry Friedman are sitting down for an honest discussion about the proposal and what it could mean for the future of policing.
If you haven't already registered, please join us.
Join Chief Moore and Professor Friedman next week, Wednesday, April 26 at 12:30 p.m. EST as they discuss what public safety in LA and across America would look like under this proposal.
Is it possible to delegate all of these current police responsibilities to others? How would it work? What would it mean for the police as an institution? And, importantly, could this help move our country into a new chapter of public safety that is more responsive to communities, and cognizant of the harm criminalization and over-policing has caused, especially in Black and Brown communities?