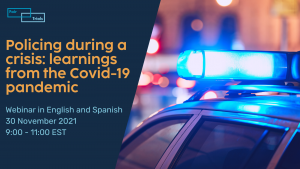 The COVID-19 pandemic created unprecedented challenges for governments across the world. As new legislation and other public health rules were introduced, the responsibility of ensuring compliance often fell on the police. Approaches varied from strict, even violent, enforcement to the use of strategies aimed at persuasion and community engagement.
By examining these approaches, we found that the most effective responses to a crisis are those that prioritise rights-based policing. Tough approaches that rush to enforcement, punishment and prosecution are not the best ways of ensuring compliance.
A recent report by Fair Trials, the African Policing Civilian Oversight Forum (APCOF) and The Global Law Enforcement Public Health Association demonstrates the need for policy decisions that are properly planned, clear and well-explained, and applied equitably. Responses also need to prioritise limited resources so that the police can carry out their work effectively.
During this webinar, we will discuss the findings of this report, contrasting them with the conclusions of other research into policing during the COVID-19 pandemic. The speakers, including researchers, representatives of the police and international organisations, will explore how the key lessons learnt can be applied to other crises in international contexts.
The webinar will take place on 30 November, 9:00-11:00 EST. It will be held in Spanish with simultaneous interpretation into English.
Read more and register here.