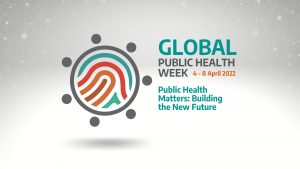 During Global Public Health Week (GPHW), the WFPHA brings together institutions, communities, and public health actors from around the world to recognize the contributions of public health and its workforce. This annual event engenders discussion on the best practices and missing gaps fundamental to disease prevention and the promotion of health and wellbeing.
Public health has been the "invisible guardian" of our health for decades. The COVID-19 pandemic has made the public health field more apparent and appreciated. However, the risk of regression post-pandemic is high. We cannot lose this momentum; we need to act now to prevent the next pandemic. Making public health visible and understood is a key step for emergency preparedness. Facilitating sharing of the knowledge, resources and barriers faced by public health professionals globally is key to improving public health in all contexts.
Global Public Health Week commences on April 4th 2022, with the theme "Public Health Matters: Building the New Future". It will be a hybrid event, combining face to face and digital gatherings worldwide.